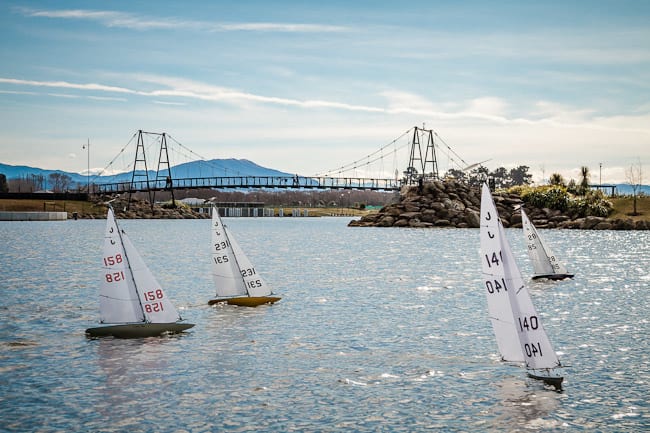 In 1998 weed was, as now, the scourge of the Christchurch Model Yacht Club at Lake Victoria, making sailing long fin boats almost impossible. At this time Dave Heanly had purchased a commercial glass fibre hull of a traditional long keel yacht. This model, 48″ long was based on a MAP plan of the famous J Class Ranger, the last of the pre W.W.II defenders of the Cup, designed by Olin Stephens. Dave discussed with Hugh Hobden ideas for developing a rig for the boat with the idea of retaining some of the traditional form with model practicality. The resulting rig worked well and with two smaller ones for higher winds, it coped with a wide range of weather. The possibilities of this design seemed ideal for Lake Victoria.
Peter Vincent and Hugh Hobden , after some protracted negotiations, purchased hulls and built up boats. With three boats sailing, others saw the potential and the rest is history – and an active Owners' Association has been formed, a set of rules drawn up and Championships sailed.
The basic philosophy was to have an easily sailed and built 'entry-point RC yacht' based on a one design principles to provide good resale value, and with racing dependant more on the skipper rather than designer/builder skill. These objects have been attained and the Class has attracted many first time sailors, mostly from the retired ranks who share the common creed, "it sure beats gardening!"
The boat can be transported easily in the average car or station wagon – sometimes fully rigged. many boats have features of the original J Class.
Perhaps the main following of the Class is by "The Wednesday Windlers", who can muster fleets of 20 plus for their around-the-lake sailing on Lake Victoria. Why not visit the lake on a Wednesday? Members turn out, except in the most atrocious weather, and are pleased to "turn over the controls" to any interested spectator.
Over 280 hulls have been sold and they are to be found in all areas of New Zealand and as far afield as the USA, Canada and the UK. It is a one-design yacht and all hull shells, keels and trim weights are made from molds officially approved by the Canterbury J Association with an identification number molded into the hull.
There are rules that, prohibit exotic materials, define a fixed minimum weight, strictly control dimensions in the three sizes of sail rigs.
The yacht can be bought as a kit or in separate pieces and assembled as the budget allows. This also allows members handy at making small components to make many of the parts and keep the price down.
All parts are available: hulls white polyester, keels, brass fittings, and computer-generated sails, winches and radio gear. If you cannot find the part you want we will find it or we can make it at reasonable costs.